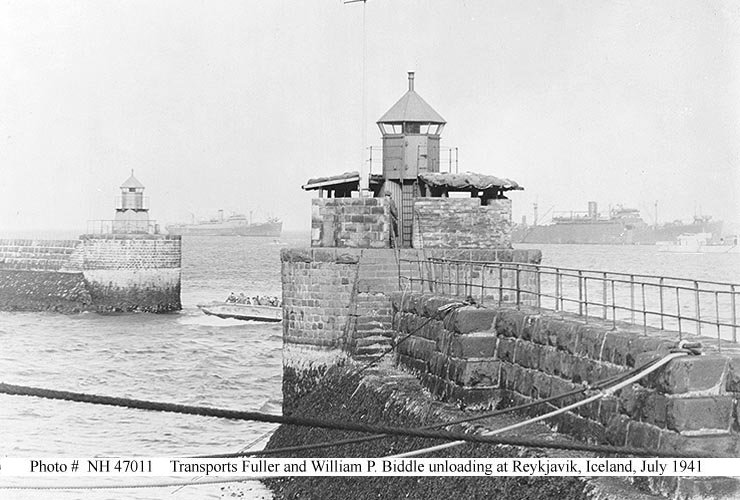 ACTION IN THE ATLANTIC IN 1941 by Henry P. Lowenstein
I served on the William P Biddle from the time she was put in commission until the war was over, so I made both trips to Iceland.
On both trips the North Atlantic was very stormy and we encountered huge ground swells and extensive fog. One of the Biddle's lookouts spotted a light coming from off the starboard bow of our convoy. One of the destroyers in our screen found lifeboat with survivors who included a number of Navy nurses. Their ship had been torpedoed by a German U-Boat. If we hadn't saved them, they would surely have died of exposure.
Upon arriving in Iceland we found a very friendly people who greeted us warmly. The girls our age (19 to 20) were very pretty and they had the most beautiful gray blue eyes. We walked about Reykjavik, whose buildings and homes were well kept and maintained. We noticed that there were many pastry shops and the baked good were excellent.
The first trip to Iceland was in the summer and with the sun so far north we were amazed that the sun set about 11:00 p.m. and came up about 1:00 a.m., so it never got completely dark and we could unload our cargo 24 hours with three shifts and a few lights top side.
I was in one of the Biddle's boats and it was easy to get lost in the fog and finding the way into the harbor and back to the ship which was anchored out in the bay could be quite difficult. One of the Biddle's boats got lost in a dense fog and as it approached the unloading area in the harbor, a Marine Sentinel challenged it and the crewman in the bow of the boat named Bill Hon was shot and killed. Bill was from our Kansas City, Missouri Naval Reserve unit.