They're docking in Kokomo this weekend
Kokomo Tribuen October 5, 2002
By Tom Carey, Tribune lifestyle editor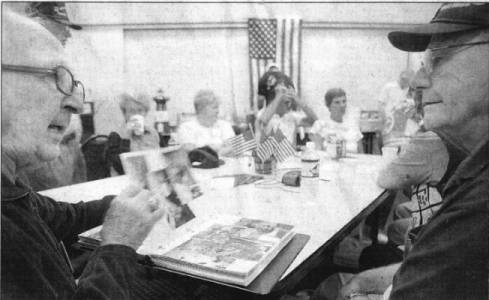 They served at different times, battling different foes. But they all spent time aboard the same ship and have "docked" in Kokomo.
They are servicemen who served aboard the USS Mountrail, a transport carrier decommissioned in 1970. Those who served aboard the ship from 1944 to 1969 gathered in North Dakota in 1994 to celebrate the ship's 50th anniversary. And Kokomo's David Boyce, who served on board during the '50s, is among those "alumni" reuniting through Sunday in Kokomo.
Photo provided by David Boyce

NAVY BUDDIES; Terre Haute's Earl Cash, left, Cicero's Robert Blake, Little Mountain, S. C.'s John Boland and Kokomo's David Boyce are seen aboard the USS Mountrail in the early '50s in Japan. "Alumni" of the ship have gathered in Kokomo this weekend for a reunion.

Photo provided

NAVY MAN: Bob Wyatt in 1952 aboard the USS Mountrail
The primary mission of the ship - which also saw action in World War II, the Korean War and the Cuban missile crisis - was transporting combat troops and equipment in support of amphibious assault operations.
The Mountrail was launched Sept. 20, 1944. It was commissioned on Nov. 16, 1944, with Comdr. R. R. Stevens in command.
After shakedown, the Mountrail embarked troops at Seattle and sailed for the Philippines on Jan. 10, 1945, according to information found at http://www.hazegray.org/danfs/amphib/apa213.htm
Reaching Leyte Gulf Feb. 21, it put to sea with men of the 77th Infantry Division for amphibious training off Leyte before departing San Pedro Bay March 21 to join a convoy for the Okinawa invasion, the Web site continued. It arrived off Kerama Retto March 26. While it landed troops April 2, its gunners shot down three planes.
The Mountrail departed Kerama Retto and arrived in San Francisco on May 22 to load troops for the Philippines, whom it disembarked at Manila. Returning to San Francisco on Aug. 5, it sailed with more troops, landing them at Batangas, Luson, Sep. 11. At Leyte Guli, it took on occupation troops, whom it landed at Hakodate, Japan, Oct. 4, then carried Marines from Japan to Tsingtao, China, before sailing for home Nov. 5. It decommissioned July 1, 1946, and entered the Pacific Reserve Fleet at Stockton, Calif.
Then 23, Carthage, Mo.'s Girvan Sparks helped commission the ship. A gunner's mate, he provided ammunition to a ship's gunner as he fired at the enemy. Dischared from the Navy in 1946, Sparks - who was unable to make it to this weekend's reunion - said he recalls ship personnel defending themselves against kamikaze pilots who tried to attack the ship. Also, "we dumped Marines and soldiers on the beaches."
The ship's company could be comprised of up to 56 officers and 480 enlisted men, Boyce said; troops, up to 86 officers and 1,475 enlisted personnel.
With the outbreak of the Korean War, according to the aforementioned Web site, the Mountrail recommissioned Sept. 9, 1950, and sailed Dec. 22 for the Far East to carry men between Japan and Korea until returning to San Diego on Aug. 2, 1951. On May 28, 1952, it sailed for its second tour of duty with the 7th Fleet operating between Hong Kong and Korea for the next six months. On Oct. 15, it joined in a mock invasion of Bolo, Korea, which tricked the Communists completely.
It returned to Long Beach in December and trained on the West Coast until sailing for Japan on Nov. 28, 1953. The ship sailed between the Philippines and Japan until August, when it joined operation "Passage to Freedom," the massive evacuation of refugees from North to South Vietnam. It returned to Long Beach Oct. 9, 1954, and decommissioned Oct. 1, 1955, to return to reserve.
Among those serving on board during the '50's were Cicero's Robert Blake and Boyce. And they recall not only serving their country, but spending time as potential movie extras.
Sometimes on board, when you added transport troops to regular crew, "it got pretty tight in there," said Blake. However, "I can't say I didn't like anything there."
Among other duties, Boyce and other crew members picked up Philippine troops in Inchon and took them to Manila. They also picked up Vietnamese refugees at the seaport of Hyphong and transported them to Saigon.
Doing his "patriotic duty," Boyce enlisted on Jan. 3, 1951. He boarded the Mountrail in April 1951, and "we moved around a lot up and down the coast of Japan."
Boyce left the ship in late October 1954.
City of Firsts native Boyce was in the Navy from 1951 through 1954. With a San Diego homeport, the Mountrail at that time also traveled to Japan, Korea, Hong Kong, Indochina and Pearl Harbor. Boyce earned a Korean Service Award Medal. He also was on the ship the same time as Blake.
Boyce and other crew members might be on board two weeks - say, the time it would take to travel from the West Coast to Japan - before pulling into port. "Some of the guys were at sea for six to eight months in World War II," Boyce said. "We were lucky."
"You weren't cramped in; I really enjoyed it," Boyce continued. The man said that, at one point, three other Kokomoans were on the ship with him. He said he liked the camaraderie, "all the guys you worked with ... the adventure of going to different countries.
He and Blake recall time in front of Hollywood movie cameras.
The Mountrail was docked in Pearl Harbor at the same time filming of "The Caine Mutiny" was taking place. The Mountrail was tied up at dock, and crew members were filmed in boats as they headed toward shore. Depth charges were set off in front of the boats as the men headed toward shore. It took three days of filming, and Boyce said he doesn't believe either he or Blake can be seen in the film's final cut.
After his discharge, Boyce eventually moved back to this area and worked for Public Service Indiana before retiring Jan. 1, 1990.
The Mountrail recommissioned on Nov. 22, 1961 and sailed to join Amphibious Squadron 12, Atlantic Fleet. During training, it operated in the Atlantic and Caribbean, strengthening American forces at Guantanamo Bay during the Cuban Missile Crisis in the autumn of 1962. In October and in November of 1964, it took part in NATO landing exercises in southern Spain. On Feb. 8, 1965 it left Norfolk, Va., for its first deployment with the 6th Fleet. It took part in exercies off Norway in June and July, returning to Norfolk on July 20.
Into 1969, the Mountrail has continued annual deployments with the 6th fleet, strengthening the amphibious capability of this bulwark of freedom in the Mediterranean.
The Mountrail received one battle star for World War 11 service and three for Korean service.
Bob Clark of Owosso, Mich., came on board the ship in Turkey in the spring of 1968. He was on the ship until it was decommissioned in November 1968. It made excursions to the Mediterranean and Puerto Rico during that time.
Clark said he enjoyed his duties, which included tending to the engines on landing crafts and the ship's refrigeration, evaporation and hydraulic systems.
Photos provided by David Boyce

BOATS LOADED: Troops disembark the USS Mountrail during a training operation in the 1950s at Okinawa. Navy personnel who

spent time on the ship during the 1940s, 1950s and 1960s are gathered in Kokomo this weekend for a reunion.
The first reunion of former crew members - conducted in 1992 - was promoted by a premiere crew member. Unfortunately, Boyce said, that veteran died before it occurred, However the man's daughter got the first reunion going.
Mountrail "alumni" began filtering into Kokomo Thursday. Before they return to their respective homes, they will have toured Kokomo Opalescent Glass and the Grissom Air Museum, dined with each other and Mayor James Trobaugh, and rehashed old times.
Boyce said the reunions can have about 30 to 35 attendants, as well as their spouses. One recent gathering saw 17 or 18 "alumni" from '50s and about 13 or 14 from the '60s.
"The old crew's (from World War I) are just about gone," said the 80-year old Sparks. He went to the first reunion. Although he's missed few of the events, "I just enjoy these gatherings). They're a good bunch of men. I enjoy talking with them; we have a lot of fun."
"When it comes to the reunions, I enjoy meeting everybody again," Blake said. And while he may not have served directly with all reunion attendants, "anybody who was on ship is one of the bunch.We have a great time." Although they may have served at different times, Clark noted the men went to a lot of the same ports and engaged in similar activities whils serving their country.
"As long as I can keep going, I'm planning on going back," Clark said.
"When you're out at sea for two weeks or so at a time," Boyce said, "you live so close together you become like brothers, like family." Sure, they may have served at different times. But "they were on the same ship you were on; they went down the same path you did, the same as if you belonged to the same fraternity on a college campus. You feel the camaraderie.
"Another friend of mine was in the Army in the Korean War," Boyce said, and claimed "we didn't seem to have the closeness you guys did on the ship."
Tribune Lifestyle editor TOM CAREY
may be reached at (765) 454-8560
or via e-mail at: tom.carey@kokomotribune.com