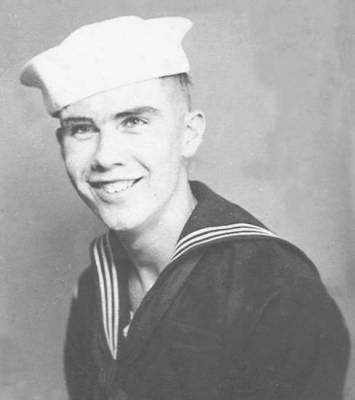 Marlowe John DAHLGREN Jr., S1c 566 23 21 USNR
USS Neshoba
10 Jun 1926 - 7 May 1945
Marlowe John Dahlgren Jr. was born in Los Angeles, CA, the son of Marlowe John Dahlgren and Lois Graber Dahlgren. He had one younger brother, Jack Dahlgren. Junior, as he was known, attended Samuel Gompers Jr. High and Gardena High School where he lettered in track.
His favorite events included the 440 and the long jump. He also anchored the relay team. As many young men did in the summer of '44, Marlowe joined the Navy soon after graduating. He served in the invasion of Okinawa, off-loading cargo and disembarking troops.
He was with the Neshoba when she arrived at Pearl Harbor on April 22, when they took up training duties off Maui. It was during that time that Junior was to become the only fatality from the Neshoba. He was 18 years old.
"Dahlgren, M. J. Jr., S1c 566 23 21 USNR died from injuries, multiple extreme, while working on deck; …Within command, at work, negligence not apparent."
Due to the war, Junior was buried on the island of Maui. In 1947, his body was brought home to southern California and laid to rest in Inglewood, CA. The city of Los Angeles honored him as a war hero.
==================
I had asked Marlowe's niece if she could put together a small biography of life cut short. Russ
====================
Hi Russ,
This is what I put together about my uncle. It sure was difficult to come up with a bio for a kid (that I didn't know) of 18. The only other thing I know about him is he had a crush on a neighbor girl named Virginia Puckett. I wonder if she ever knew?
Thanks,
Georgeanna
From Joseph Morin: The only death casualty was a seaman named Dahlgren. He was pinned between an LCVP and a cable drum that was welded to the deck.