WWII sailor's 94th rich in memories
Amy Davis | Herald-Citizen Posted Wednesday, October 5, 2016 By AMY DAVIS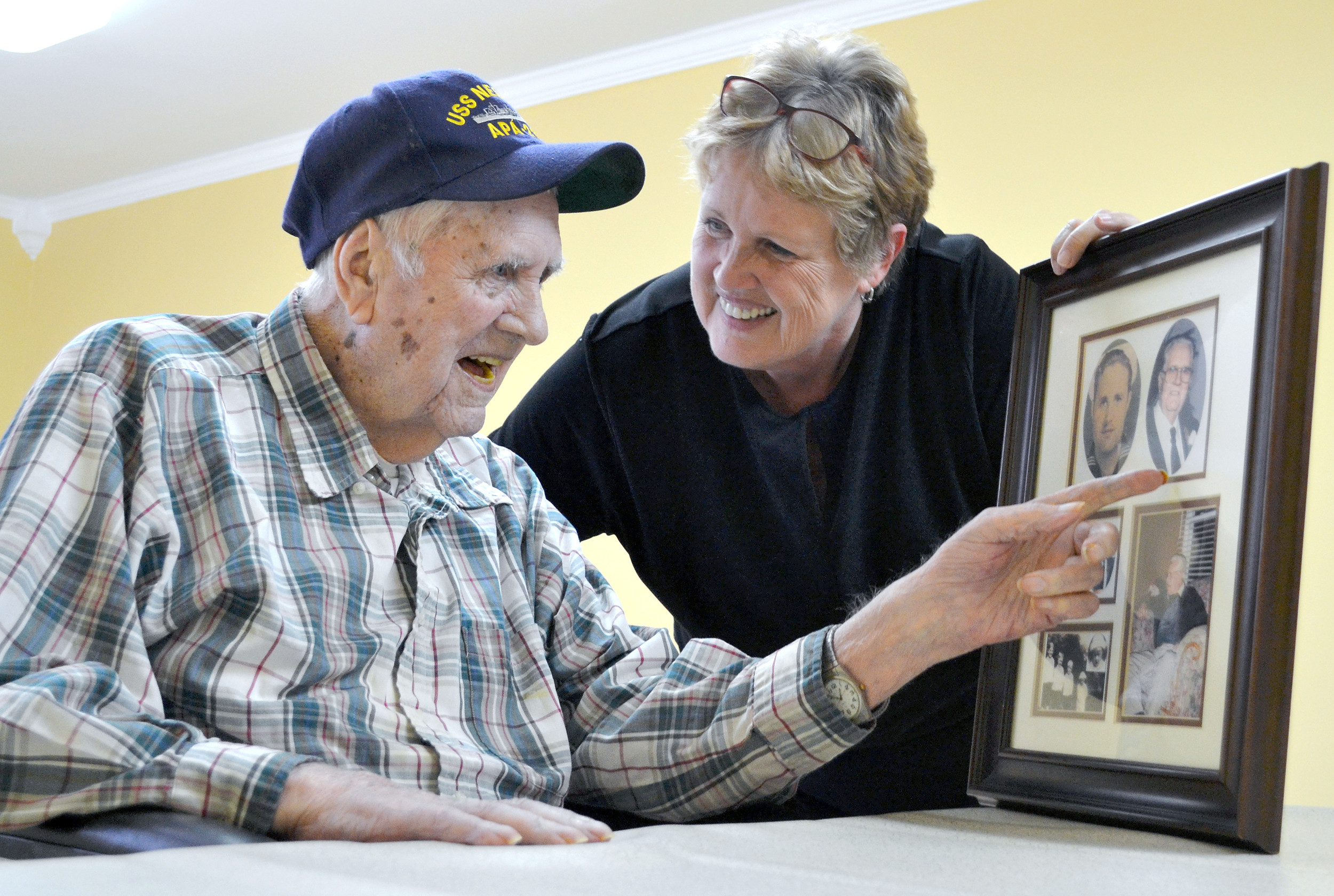 World War II veteran Talmadge Welch, who turned 94 on Sept. 30, looks at old family photos with daughter Gail Tinch at Standing Stone Care and Rehabilitation Center in Monterey.
As Talmadge Welch celebrated his 94th birthday Sept. 30, he got a brief reminder of his younger days. His daughter Gail Tinch, who visited him at Standing Stone Care and Rehabilitation Center in Monterey, had brought him pumpkin cookies and flowers. She also pulled out a few old pictures — Welch in his Navy uniform, Welch during his preaching days, Welch with family members who have since passed away, including his childhood sweetheart and wife of 57 years, Sallie.
There was even a photo of the war ship that carried Welch to the Japanese island of Okinawa during World War II. The war, of course, had been filled with plenty of dark, frightening days, most of which Welch kept to himself. Even so, the former Navy gunner put on his blue USS Neshoba cap and smiled broadly.
Welch, who was born in 1922 in the rural community of Bill's Branch in Overton County, had joined the service near the end of the war. Before that, he had taken advantage of the Civilian Conservation Corps, or CCC, public work relief program instituted by President Franklin D. Roosevelt to help families make ends meet during the Great Depression. "He wasn't quite 18," Tinch said. "His grandmother said, 'He's not old enough,' and he just said, 'Old people are really forgetful.' He really wanted to go because times were hard, and that gave them some money." Through the CCC program, Welch worked on projects as far away as California and Washington state and as close as Chattanooga and Pickett State Park in Fentress County.
"He didn't graduate because he had to work," Tinch added. "He and Mama got married when he was 18 and she was 16." Both had gone to school together in a small country school in the Love Joy community. "Miss Claudie, the teacher, made Talmadge sit next to Sallie so she could keep him quiet and somewhat under control," his son, Steve Welch, said. Even before they were sweethearts, the two had been friends."They grew up together," Tinch said. "Her daddy had a molasses mill, and Daddy remembers them playing together and eating the foam off the molasses. Mama would say, 'Talmadge, don't you just love it?'"
As the two grew older, Welch had competition when it came to his future wife. One of their daughter's favorite stories was from the couple's teenage years. During those days, girls would bake pies to be auctioned. The young man who was the highest bidder would get the pie, as well as the girl to share it with. "This one guy outbid Daddy, and she yelled, 'Talmadge, come help us eat this pie.'" Of course, the other fellow objected. So she said, 'If Talmadge doesn't get any pie, nobody gets any pie.'"
After joining the Navy, Welch was stationed in San Diego while preparing to join the Pacific Fleet. Before he left, his young wife and baby daughter, Patty Jean, traveled by train to see him. "Even though he was confined to the barracks, he and a friend ventured into town," Steve Welch said. "Hitchhiking back after the visit, he was picked up by a car full of Naval officers." As they neared the naval base, Welch asked the officers to let him out so he could go back in the same way he left."The 'scrambled eggs' on their caps made him nervous," Welch's son said, referring to the slang term used to describe the leaf-shaped embellishments on the officers' caps. "But they said, 'Don't worry, sailor. You're with us.'"
Welch later boarded the USS Neshoba for Okinawa, where he fought during World War II's largest amphibious assault in the Pacific in 1945. "It was near the end of the war, and Japan had unleashed their kamikaze attacks," Steve Welch said. "Victory was costly, and preparation to attack the Japanese mainland began." Before that could happen, however, the U.S. dropped atomic bombs on Hiroshima and Nagasaki, which led to Japan's surrender.
After the war, Welch spent many years as a coal miner and mining superintendent. Later on, he became a Baptist minister, preaching for the Mineral Springs, Mount Union and Sand Springs congregations.
"When he was in the service, he said he told the Lord, 'If I make it back OK, I'll preach for you,'" his daughter said.
He and Sallie, who died in 1997, had six children and many grandchildren, great-grandchildren and great-great-grandchildren. He has been a resident at the Standing Stone nursing home for around four years. "He's always been positive," Tinch said. "When you come in, he's so happy to see you." Her brother added, "Visitors are always welcome. When you ask him how he's doing, his response is always, 'I am blessed.'"