Landing Craft School - Coronado, CA - Provided by Sandy Kleinberg APA 216 Neshoba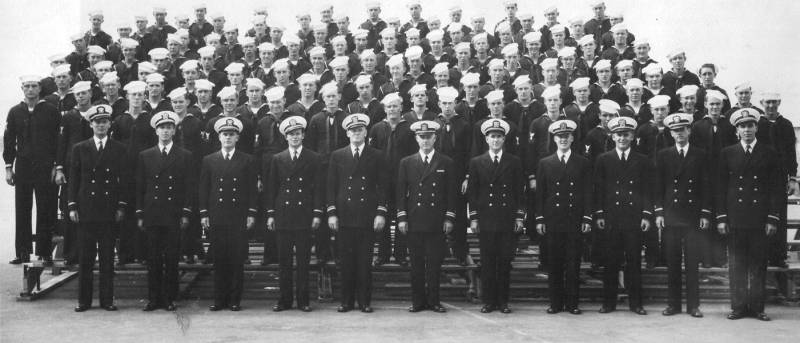 I've compiled all of the information I've received...and may have some of it confused.
Note that not all members from this class ended up on the Neshoba
Row 1 Officers from left to right from back of photo from Steve Busch - his brother had identified him in 2011.
Ens P.W. Gillette - Chicago - married w/daughter 2 1/2 - ships censor & asst. Personnel Officer (see binocular story)
Ens. A. V. Cerchiara - New York - single - Engineering Officer second in command of boat crews
Ens. W. L. Fallon - New York - single - Navigation and Compass Officer
Ens. E. LeClaire - Wisconsin - married - no children - Construction & Hull Repair Officer
Ltjg O. G. Armstrong - Iowa - married and 2 boys 4 & 6 - Executive Officer
Lt F. E. Farwell - Los Angeles - married - no children - Commanding Officer - first in command of boat crews
Ltjg J. McNerney - Ohio - married - 1 boy - Operations Officer - led a special group for instructions out of Port of san Pedro - was part of the boat crew who took them ashore, earning a 72 hour pass., While on Liberty he went to the Paladium in Hollywood where some sailor made fun of my Amphib patch. When I asked how he could make such a remark he replied" I am the cook on the APA 216 "You're nuts I said, that ship is out to sea." When we returned to the Neshoba, right along aside came The Shore Patrol with Tracy the cook. (Sandy Kleinberg)
Ens. P. Marty - Ohio - Single - Gunnery Officer
Ens. J Wellbaum - Ohio - Single - Supply Officer
Ens. G. Cheesman - Texas - single - Salvage and Repair Officer
Ens. Martin P. Busch - South Dakota - Married and one boy - Communications Officer and Assistant Engineer He came from a poor sharecropper family that had immigrated to the United States from Germany. They came over in 1921,he was born in 1922 on the farm outside of Wolsey SD. Photos of the place make one believe that there wasn't a tree within 500 miles. How they managed in those years is beyond my comprehension. He attended Dakota Weslyan University in Mitchell, SD before going off to the war. Sincerely, David L. Busch
Ens. J Northrup not in the picture.
Row 2
# 2 is Uric the coxswain of the LCVP with John Crabtree, Ltjg Churchiera and myself, the lead boat to come ashore on Brown Beach, #4 Is Lock a fellow Vermonter. He was from The Fighting Lady., #6 is Peter C. Grunstra, #8 Is a feisty little polish guy, Malinowski who had been on the invasion of Saipan and Tarawa, # 10 Is the first class boatswain mate who ran things on the boat crew and who was in charge of the anchor party, # 14 Is an Asiatic sailor, Turner who sent me to the paint locker to get a bucket of striped paint. When he couldn't go home on leave he read us a letter from his wife who said "Dear John if you can't come please send the money., #15 is a lanky guy from Kentucky whose favorite expression was "Gizmo on the gadget" He also went on emergency leave the same time as I did. (Joseph Morin provided stories and most of the identification)
Row #3
#1 John Crabtree, #7 Padget
Row #4
#7 Kisten #11 Page
Row #5
The short man on the 5th row is Chris Kirkegard Sandy Kleinberg is standing to the right of him
#5 Natal #8 Goodwin #9 Joseph Morin
Row #6
#7 Portal #9 Pelosi #12 Moore