Christ's Marine-by Joseph Morin
A Ranger
Is revered
A soldier
Is mostly Ignored
A marine now
On the other hand
Is forever challenged.
On Land or sea.
He must be prepared
Always fit
To give his all
At the Master's call.
As battles are won
And challenges met
When the task is done
He's never a vet.
Once a Marine
A Marine he stays
Till Gabriele calls
On the very last day.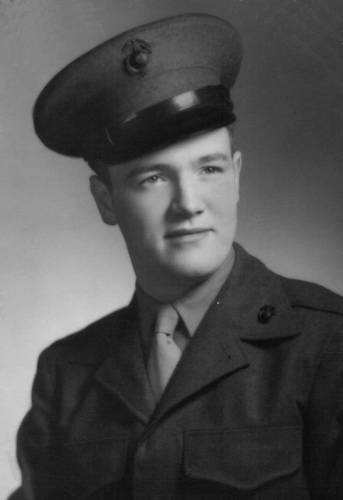 This is a photo of my son's father in law Tom Leahy, one of the the Marines I mentioned with the accompanying poem Christ's Marine.
He passed away several years ago but left an interesting legacy.
His oldest son Tom was nominated and graduated from Annapolis and served in the Navy. Tom Sr. has a grandson Sean who is on The Marine Corps and an other grandson Billie who has recently been appointed to West Point.
Our family would be honored if his picture and this clip was posted on our site.
Have a great day.
Joe Morin
Russ,
Your dad probably told you how we made jokes about The Marines.
There have been three Marines that I met which made me mellow when speaking about Marines. One of them was my oldest sonís father in law Thomas Leahy who served in Korea. An other marine that I have met in recent years survived Iwo Jima. His name is Daniel Roche.
Another Marine who impressed me was Mike Parmeter who served during the Vietnam War.
I would like to honor other Marines by including the poem Christís Marines.
Joseph Morin