Have been looking at all the info on the Neshoba web site and the Amphibious Force. Looked through all the pictures you submitted about your dad. VERY touching story of his life story. They were a rare breed !
My dad was born an raised in Sugar Creek Missouri, 10615 Scarritt, March 26 1928. He had 2 brothers who were all raised by their mother as my dads dad died when he was 5 years old. His 2 yr older brother was drafted and served in the Army in the Pacific, his 4 yr older brother was drafted and served in the Army Air Corp as a radio gunner in B-24's.
My dad was the baby and they called him Babe. George was drafted in June 15 1943 and reported to St Louis Missouri. He went fro his training in Great Lakes Il. On to Treasure Island and boarded the Neshoba November 23 1944. Experienced much of the same your dad did.
George was released from the Neshoba on February 28 1946 and then back to Treasure Island for a time. He was finally given an honorable discharge on June 4 1946.
One funny but touching story while dad was in Treasure Island his Air force brother was somewhere near Colorado. Hadn't seen each other in some time and the way things might go maybe never. So Brother Mike went AWOL, hitch hiked to Treasure Island to see his Baby brother. The picture I first sent you was taken on the meeting.
Upon return to his duty station my uncle was promptly busted from an E-6 Tech Sgt back to a PFC. Growing up I can't tell you how many times I heard that story and listened to the laughter.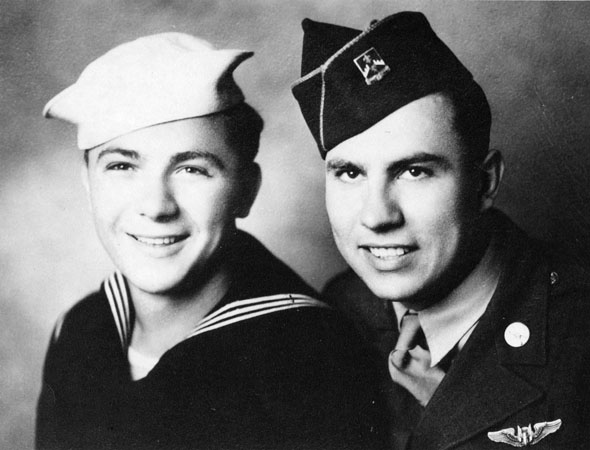 George and Mike Calovich
Dad was a Fireman second class when he boarded ship and left a Machinist Mate third class.
Frank I Calovich