Randy Land USS Neshoba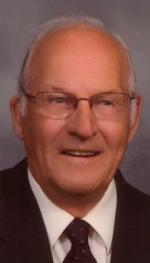 The funeral for Randy Land, Kulm, ND will be Monday, January 17, 2011 at 10:30 AM at the Assembly of God Church, Kulm, ND. Visitation will be Sunday from 1:00 PM to 6:00 PM with a prayer service at 4:00 PM at Dahlstrom Funeral Home, Kulm, ND. Burial will be at the Kulm Assembly of God Cemetery in the spring.
Rangvald (Randy) Norman Land was born December 31, 1925, in Kulm, the son of Anton and Anna (Sodstad) Land. He attended school at Swede School #1 through the 8th grade. At age eighteen, in 1944, he was drafted, and volunteered for the Navy. He was assigned to the ship USS Neshoba as a ship fitter, and spent the next two years in the South Pacific. He was discharged in June 1946. He completed his GED in Ellendale, ND, in 1947. Randy farmed with his brother Alvin, and in 1957 bought his own farm northwest of Kulm. On June 27, 1957, he married Phyllis Erickson, also of Kulm. They raised their five children and lived on the farm until 1996, when they moved into Kulm. Randy served on the Swede Township Board for 32 years, and was an active member of the Kulm Assembly of God Church and was a member of Kulm American Legion Robert Kurtz Post #57. He was known for his quiet strength, his dry sense of humor, his ability to fix anything, his big hands and his warm smile. He was a beloved husband, father, uncle, "Papa" and friend.
Rangvald (Randy) Norman Land died Wednesday, January 12, 2011, under Hospice Care at his home in Kulm. He was 85 years old.
Randy is survived by his children Tom (Carol) Land, Bismarck, ND; Dean (Joy) Land, Kulm, ND; Jan (Emery) Lindgren, Kulm, ND; Patti (Jay) Risk, Bismarck, ND; Bruce (Andrea) Land, Kulm, ND; and eleven grandchildren. He was preceded in death by his parents, his wife, and brothers Helge and Alvin. Sign online guest book at www.dahlstromfuneralservice.com and share memories of Randy. Dahlstrom Funeral Home of Kulm, ND entrusted with arrangements.