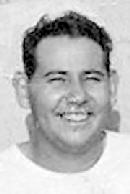 January 10, 2010
WASSERMAN, Melvin Robert, 84, passed away Tuesday, January 5, 2010.
He is survived by his brother, Edwin Wasser-man, and his three children, Keith Wasserman, Allen Wasserman and Marla Wasserman-Pellicone. He also leaves behind three grandchildren, Bryan, Ariele, and Richard; and his great-grandson Alex. Mel Wasserman will be remembered as a loving father and a gentle soul who cared very much for his family. He was born August 8, 1926, in Los Angeles, Calif., the eldest son of Morris and Blanche Wasserman.
On September 21, 1943, at the age of 16, he began his 26-year career with the U.S. Navy, where he proudly served his country aboard the USS Neshoba, USS Manatee, USS Howard W. Gilmore, USS Bryce Canyon, USS Coontz, USS Isle Royale, USS Klondike, and USS Jason.
A veteran of three wars (Vietnam, Korea, and World War II), he earned many decorations, including the Bronze Star, the Vietnam Service Medal, the Korean War Service Medal, the World War II Victory Medal, the National Defense Service Medal, the United Nations Services Medal, the American Campaign Medal, the China Service Medal, and many good conduct medals. He received an official White House letter signed by President Harry B. Truman.
On January 12, 1953, he was presented with an honorable medal for bravery for risking his own life to rescue two of his crew members from the burning oil tanker USS Cimarron. He loved serving America and after leaving the Navy, he worked for a while at the MacDill AFB commissary so he could still talk with other veterans and retirees.
He retired from the Navy February 12, 1969, and settled with his family in Tampa, where he worked for the City of Tampa for 16 years. He will be dearly missed by his family. "We love you." A memorial service will be conducted for Mr. Wasserman at the Florida National Cemetery in Bushnell, Fla., where he will be interred with full military honors.