GROWING UP IN WATTS
GROWING UP IN WATTS, CA DURING THE THIRTIES WAS FINANCIALLY DEPRESSING. NEVERTHELESS, OUR FAMILY, EIGHT OF US, WERE CLOSE AND VERY SHARING; UNLIKE THE HORDES OF UNEMPLOYED AND DISPLACED AMERICANS WHO WERE HOMELESS AND WORSE-OFF THAN EVEN THE POOREST OF WATTS INHABITANTS.
THE DISPLACED AND HOMELESS OFTEN GATHERED WITHIN EMPTY LOTS, THROWING TOGETHER MAKESHIFT SHELTERS CONSTRUCTED FROM DISCARDED PACKING BOXES, THROWN AWAY GARMENTS OR PIECES OF CLOTH. ANY FAMILY OR INDIVIDUAL WHO POSSESSED A TENT WAS FORTUNATE INDEED. THESE CROWDED COMMUNITIES OF DOWNTRODDEN AMERICANS (SOME WERE WORLD WAR ONE VETERANS) WERE APPROPRIATELY LABELED "HOOVER TOWNS" IN HONOR OF HERBERT HOOVER WHO PRESIDED OVER THE USA DURING THE DEVASTATING STOCK MARKET CRASH OF 1929 WHICH NEARLY BANKRUPTED AMERICA.
MYSELF, AND A FEW OTHER RAGAMUFFIN BUDDIES WOULD SOMETIMES WALK OVER TO ALAMEDA BLVD AND MANCHESTER STREET TO OBSERVE PEOPLE LIVING IN A WORSE ENVIRONMENT THAN OUR OWN.
ATTACHED IS A PHOTO FROM LIFE MAGAZINE SHOWING SUCH A "HOOVER TOWN" ERECTED IN 1933 NEAR WASHINGTON, DC. MAY WE NEVER HAVE TO WITNESS SUCH A SITUATION AGAIN.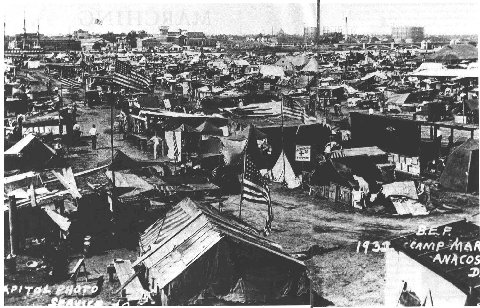 THE EUREKA OLD TIMER