January 6, 1943 - 37 AREA MEN RECEIVE ARMY TESTS TODAY
The final group of the December quota of Board 404, consisting of 37 men, will leave this morning for the Army induction station at Utica. Registrants passing the physical examinations will be inducted and placed in the enlisted reserve of the US Army until they report to a reception center next Wednesday.
Twenty-one selectees from this city are included in the third contingent to be shipped by Board 404 this month. Atty. Warren G. Farrington of Maple has been appointed leader, and the assistant leader is Shahan Thompson of Maryland, RD2, Oneonta, chauffeur.
David Larson Peet and Dean Norman Peet, twin brothers, residing at Laurens, RD1, are two of the four volunteers leaving this morning. The others are Herbert Lewis Blake of 11 Kearney and Norbert Charles Bidwell of 11 Harrison.
Others leaving today: Kenneth Hull Wright, Otego, RD1; Laverne John Ludlam, East Springfield; Max Edward Taylor, 8 Norton; Lee Raymond Starkweather, 43 Spruce; Kenneth Leland Calkins, 95 Main; George Victor Galusha, Mohawk; John Balnis, 24 Gilbert; Joseph Matthew Crowe, 71 Center; Arthur George Frohrib, 6 Cozy; Homer Renwick, 488 Main; William Thomas Layman, 19 River; Arthur Joseph Murphy, 44 Clinton; Jack Stride Reynolds, 406 Chestnut; Earl Davis Salisbury, Maryland, RD; Charles Cornelius Coston, 4 Railroad; Harry Smith Miller, Schenevus; Charles J. Sisson, Otego; Webb Wendell Neale, Worcester; Joseph Warren Milliken, Unadilla; Clifford Jarred Shutters, 6 Miller; Hartford Nelson Keith, 58 West; John Paul Babinec, 11 Washington; David Edward Gaffney, 15-1/2 West; Royce Boardman Odell, 4 Reynolds Avenue; Ralph William Rudolph, Unadilla; Carl Milton Jacobson, Fayetteville; Leon Pedersen, Oneonta, RD1; Howard Herbert Michaels, 57 Gilbert; Kenneth Raymond Lord, Unadilla; Martin Joseph Gill, Unadilla; James Edward Carroll, former manager of the Palace theatre, transferred here from Oswego.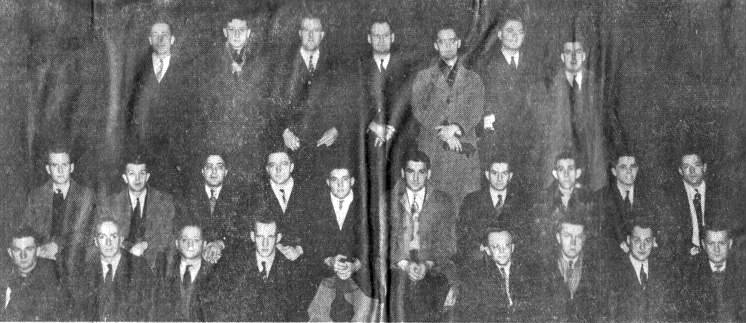 Bottom row: Herbert Blake, Max Taylor, William Layman, Leon Pedersen, Howard Sutton, Norbert Bidwell, Homer Renwick, Joseph Crowe.
Middle row: Milton Jacobson, Earl Salisbury, Shahan Thompson, James Milliken, Arthur Murphy, John Babinec, George Galusha, Howard Michaels, Lee Starkweather, David Gaffney.
Back row: Clifford Shutters, Ralph Rudolph, Charles Sisson, Hartford Keith, James Carroll, Warren Farrington, Kenneth Calkins.
NOW SERVING with the regular Army are these area men, who entrained yesterday morning for the reception center at Camp Upton. Rev. George Thomson addressed the reservists at a farewell ceremony.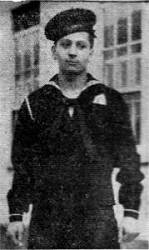 January 15, 1943 GRANDSON OF SCHENEVUS COUPLE MISSING IN ACTION
John A. Chermack, Jr., grandson of Mr. and Mrs. Louis Chermack of Schenevus, was reported missing in action by the Navy Monday. He served on the SS Juneau which was sunk in the battle of the Solomons during the night of Nov. 14 and 15. Well known in this vicinity, he attended school in Schenevus and Maryland. Son of Mr. and Mrs. John A. Chermack, Sr., of Woodside, L.I., he enlisted Jan. 16, 1942, and served some time at the Brooklyn Navy Yard before being assigned to the cruiser Juneau.
His father served in World War I, and left with the first contingent of Americans to arrive at St. Nazaire, France, June 26, 1917. He served with Company A, 18th Infantry, First Division, during the war and saw service on nine different fronts. He was wounded in action Oct. 4, 1918, in the Meuse-Argonne offensive and was cited for bravery on two occasions. He received the Purple Heart, Silver Star, Conspicuous Service Cross, as well as a Victory medal with five battle clasps.
The father enlisted when he was 18, and the son, following in his footsteps in service to his country, enlisted at 17.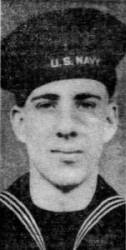 January 15, 1943 - WALTON SAILOR LIKES NAVY; GAINS 22 POUNDS
Walton: - The Navy is among the world's greatest places for physical buildup, according to Clifford Northrup, Seaman 2/c, this village, who gained 22 pounds in his first seven and a half weeks at Sampson Naval Training Station.
Seaman Northrup, son of Mr. and Mrs. Earl Northrup, Howell, enlisted Nov. 1. Naturally of frail physical stature, he had many doubts about passing the physical examination. But they were all passed, and he went to Sampson for preliminary training.
Returning to Sampson Sunday after a furlough spent here, the first since he enlisted, Seaman Northrup expects to be transferred to Newport, R.I., for a course at torpedoman's school.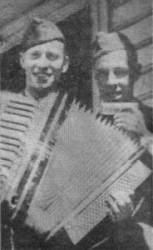 January 25, 1943

Pvt. Francis DE. St.Onge, left, and an unidentified buddy, likewise musical


PVT. FRANCIS E. ST.ONGE 'SOMEWHERE IN AUSTRALIA'

West Davenport - Word from Pvt. Francis E. St.Onge, known throughout this part
of the state, having played with his father and two brothers, Edwin and Charles,
as the St.Onge Orchestra, reveals that he is serving in Australia. Information
came in a letter to his parents, Mr. and Mrs. Edward St.Onge, here.

Pvt. St.Onge is with the Signal Corps, after preliminary training at Ft. Bragg,
N.C. and at Drew Field Radio School, Tampa, Fla. During transfer to Australia,
he spent a short time at a station near San Francisco, Cal.