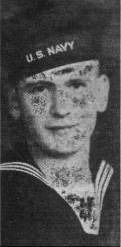 Edwin Bertch
March 13, 1943 BROTHERS IN NAVY; ENLISTED SAME DAY
Edwin and Donald, sons of Mr. And Mrs. Ray Bertch of Franklin, enlisted in the Navy Nov. 25, 1942. Both are Seamen 2/c and both are stationed in Va. Edwin, studying to be a Pharmacists Mate in the Medical Department, is at the Naval Hospital, Portsmouth. He received his basic training at Sampson Training Station, Geneva. Donald, a Machinists Mate, specializing in diesel engines, is at the Naval Training School, South Richmond. He took his basic work at Great Lakes Training Station.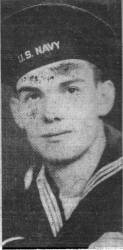 Donald Bertch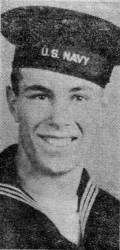 March 15, 1943 SEAMAN EARL MABIE TRANSFERRED TO VIRGINIA
Second Class Seaman Earl Mabie has been transferred from Sampson Naval Training School to Little Creek, Va., where he is studying at an Armed Guard School. Seaman Mabie is the son of Mr. and Mrs. Arba Mabie of Westford, and has two brothers in the Service, Pvt. Robert Mabie stationed at Laredo Aerial Gunnery School in Texas, and Pvt. Gifford Mabie in the Medical Corps at Camp Beckett, Va. A brother-in-law, Pvt. Elwyn Hoke, is at Fort Jackson, S.C.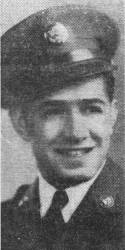 March 27, 1943 SGT. ANTHONY SPERANZI PROMOTED IN PACIFIC AREA
Sgt. Anthony Speranzi, son of Mr. and Mrs. Julius Speranzi, 17 Brookside, has been promoted to Staff Sergeant with the Army in the Pacific War area. Overseas two years, he also saw service in Iceland. The promotion was received about two weeks ago, according to word received by the family yesterday.
S/Sgt. Speranzi's brother, S/Sgt. Joseph Speranzi, was the first native Oneontan to be killed in action, when he met death Nov. 9 with the American Forces in Africa. Another brother, Andrew Speranzi, was given an Honorable Discharge from the Army on medical grounds.