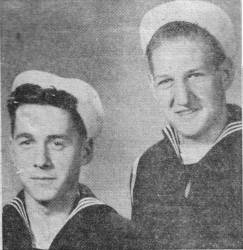 May 5, 1943 AREA YOUTHS ARE NAVY BUDDIES
Sea. Lester Wilber, Franklin, and Sea. Ralph Lictfuss, Delhi

Delhi - Buddies in the Navy are Ralph Lichtfuss, son of Mr. and Mrs. Frank Lichtfuss of Delhi, and Lester Wilbur, son of Mr. and Mrs. Hiram Wilbur of Franklin.

Both boys have completed their boot training at Sampson and are spending a leave at their homes before reporting back for transfer this week. Sea. Wilbur was a guest at the Lichtfuss home earlier this week.

Lichtfuss graduated from Delaware Academy in January,. Wilbur graduated from Franklin School in June, 1941, and spent a year working for his father on the family farm. Both were inducted Feb. 27, accepted by the Navy and sent to Sampson where they became fast friends.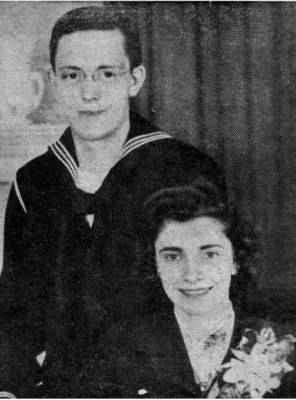 May 13, 1943 SEA. MACKEY WEDS DOROTHY JONES

Miss Dorothy Mae Jones, daughter of Mrs. Helen C. Jones of 52 Burnside, became the bride of Sea. 2/c Robert Warren Mackey, son of Mr. and Mrs. Robert F. Mackey of 2 Richards, in a quiet ceremony at the First Presbyterian parsonage Sunday afternoon at 2 in a double-ring service by Dr. Boyd McCleary, Pastor.

The bride, attractive in a navy blue suit with a corsage of roses and sweet peas, was attended by Mrs. John Brienza of Schenectady who wore a lavender-flowered street-length dress. Best man was Walter Fritts of 12 Richards.

A reception for about 20 followed at the home of the bride's sister, Mrs. Clyde Palmer of 32 Burnside, after which the couple left for a wedding trip to Schenectady. The bride's gift to her matron of honor was a gold chain and pendant and the groom's to his best man was a leather billfold. Guests from out of town included: Mr. and Mrs. E. Riggs of Delhi; Mr. and Mrs. John Brienza of Schenectady; and Miss Claudia Mackey of Middletown.

The bride attended Oneonta High School and is employed as a coil assembler at Scintilla, Sidney,. The groom also attended OHS and is stationed at Sampson Navel Training Station.