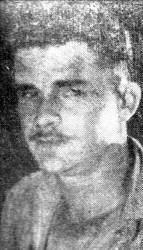 August 19, 1943
C.P. MEEHAN, DELHI, MISSING

Delhi - Clarence P. Meehan, Chief Gunnerís Mae on the gunboat, Plymouth, sunk off the North Carolina coast August 5, was the oldest of four sons of Mr. and Mrs. James H. Meehan, Delhi, who are in the Armed Forces. He has been reported missing since an underwater explosion sent the former Vanderbilt yacht to the bottom.

He had once told his mother that his duties required him to remain below decks most of the time and that he likely would be trapped if the ship went down.

Meehan was born at Delhi September 28, 1906, and received his education in local schools. He joined the Navy at 17 and would have completed 20 years service next spring. Most of his service was in the Pacific.

Two brothers, Pvt. Edward Meehan and Pvt. Lawrence Meehan, are believed to be somewhere in North Africa or, possibly, Sicily. Another brother, Pvt. William Meehan, is at a Massachusetts Army Camp His wife, Mrs. Pauline Meehan, is a nurse in St. Clares Hospital, New York.
August 17, 1943 BOARD 404 SENDS 18 MEN TO ARMY RECEPTION CENTER

Twenty men, the first group to have enjoyed a three-week furlough following examination and induction in Utica, entrained yesterday morning for the Army Reception Center at Camp Upton, L.I.

The reservists assembled at the Palace Theatre, where brief ceremonies were conducted under the auspices of the Oneonta War Council. Rev. Paul Hulslander, Pastor of the Elm Park Methodist Church, addressed the reservists.

In his remarks, Rev. Hulslander reminded the men of the things they could and could not take with them. "You cannot take your mothers, wives, and sweethearts to camp," he said, "but you can take the memories of them. You can take courage, resistance to evil (cowardice and hatred), and faith in God." He pointed out Rickenbacker's experiences and his faith in God as an example.

Albert B. Webster, Chairman of Board 404, presented transportation orders to Bradford O. Mason, 17 Grand, who was named Acting Corporal of the contingent at Utica. Mr. Mason, Advertising Manager of The Star, is married and the father of an infant daughter.

Before marching in a body to the D&H Station, the reservists were presented with box lunches, toothpaste, cigarettes, writing paper, and envelopes, Gideon Bibles. The AWVS served coffee and doughnuts at the station.

Other married men in the contingent, according to Board officials, included Officer Leroy Turner, 46 Church, a member of the Police Department for the past year; Remo Alfonso Tedeschi of Endicott, formerly of Oneonta; John P. Beckwith, 134 Chestnut; Orlo R. Thayer, 2 VanWoert; Frank Natale Microni, 15-1/2 East, operator of a barber shop at the Hotel Oneonta. Mr. Microni is the father of two children and was called for induction by a Brooklyn board.

Others leaving were: Ralph F. Amitrano, 41 Grand; Edward Crider. Laurens; Gerald M. Crandall, 16 Cherry; Gordon A. Daley, 9 Schaffer; Frank M. Beard, Johnstown; William G. Barker, Otego; Richard A. Wallace, 15 Broad; George A. Buck, 80-1/2 Ford; Carlton P. Fancher, Oneonta, RD1; Delmar H. White, 30 Richards; Donald A. Brown, Otego, RD2; Robert Frazer, Otego; J.T. Lumpkin, Oneonta Hotel.