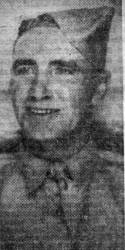 September 23, 1943
SGT. J. A. FAWCETT MISSING IN ACTION

S-Sgt. James A. Fawcett, 35, a former Oneonta police officer, has been missing in action since September 11, the War Department has advised his wife, Mrs. Dorothy (Brown) Fawcett, 126 Chestnut. Word came exactly six months after her brother, Lt. Richard Brown, was reported missing from a mission over Europe.

In a telegram from Maj. Gen. James A. Uhlio, Adjutant, Mrs. Fawcett was told that the War Department would advise her "just as soon as any other information is received."

Sgt. Fawcett, son of Mr. and Mrs. James M. Fawcett, Morris, had been serving as an Aerial Gunner in the Asiatic area. He recently participated in an invasion of the Aleutians.

A member of the Police Department since 1936, St. Fawcett enlisted in the Army in July, 1942, and received training at Ft. Dix, N. J., Sioux Falls, S. D., Harlingen Field, Tex., and Fresno, Cal. He was promoted to Staff Sergeant following graduation from the Gunners School at Harlingen Field.

Sgt. Fawcett graduated from Hartwick College in 1932. He engaged in athletics here, playing on area semi-pro football teams for several years.

Sgt. Fawcett is a brother-in-law of Lt. Richard Brown, son of Mr. and Mrs. D. D. Brown, 2 Eighth, who was reported missing in action in the European area six months ago yesterday.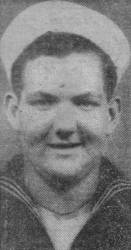 September 23, 1943
RETURNS TO NAVAL STATION

Walton - Sea. 2/c Roy Hime, son of Mr and Mrs. Aaron Hime, has returned to Sampson Naval Station, where he is completing training following entry into the Navy, several weeks ago. Sea. Hime, a former Star carrier boy here, reports that he likes the Navy, and looks ahead to a specialized career.