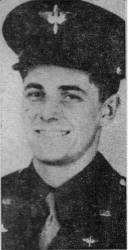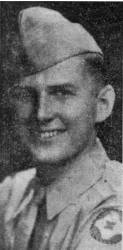 ONEONTA STAR October 6, 1943
PFC Lee Starkweather & Pvt. DonaldStarkweather
STARKWEATHER BROTHERS SERVING WITH ARMY

Two sons of Mr. And Mrs. David E. Starkweather, 33 Grand, are in service. PFC Lee Starkweather, 26, who inducted January 6, is stationed at Mitchel Field, L.I., where he is awaiting assignment to a squadron. He received basic training at the Armorers School, Buckley Field, Denver, Col. A graduate of Worcester High School, he was employed by Spauldings before induction.

Pvt. Donald Starkweather, 21, who entered the Army November 6 was first stationed with the Signal Corps, where he won his Corporal's stripes, but was later transferred to the Engineer Corps and is attending Clemson College at Clemson, S.C. He is a graduate of Oneonta High School.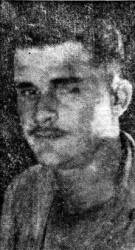 10/21/1943 C. P. MEEHAN KILLED IN ACTION
Clarence P. Meehan

Sidney - Clarence Patrick Meehan was killed in action August 5 when the gunboat Plymouth, on which he was serving as Chief Gunners Mate, was sunk off the North Carolina coast by an underwater explosion, according to word received by his wife, the former Miss Pauline Mazzarella of Sidney, from Secretary of the Navy Frank Knox.

Meehan, son of Mr. And Mrs. James Meehan, Delhi, was born in Delhi Sept. 28, 1906, and attended Delhi schools. He joined the Navy at 17 and would have completed 20 years of service next spring. Most of his service was in the
Pacific.

He is survived by his parents, his wife, a nurse at St. Clares Hospital, New York, and four brothers, three of whom are in active service, Pvt. Lawrence Meehan and Pvt. Edward Meehan in Sicily; and Pvt. William Meehan in a Massachusetts Army camp; and three sisters.

His body was interned at the place of disaster with full Naval honors. He had been reported missing since August 5.