With colleges and universities all over postwar America jammed with students and turning many away, there still room for thousands of education-hungry young people in the three emergency schools New York State has set up to handle the overflow --- the Associated Colleges of Upper New York.
The three colleges-Sampson near Geneva, Champlain at Plattsburg, Mohawk at Utica--handled 6,227 students during the Spring term, have more than 3,000 in the current Summer session, and will have places for 9,400 this Fall when their first birthday arrives.
And that isn't all. The largest unit, at Sampson, is expandable. Sampson now utilizes only part of the buildings that housed 54,000 Navy boots during their war training. If the need arises more instructors will be found and Sampson will be quickly enlarged officials said.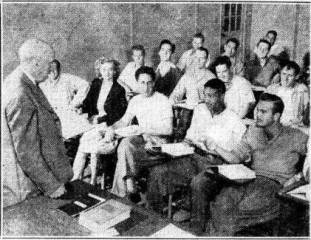 Prof. James G. Stevens is questioned by student at Sampson. Girl is Rose Marie Wilcox, one of three non-vets in this class.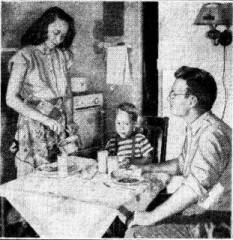 Student James D. Roger, his wife and 4 year old son have three-room apartment at Sampson.
Non-Veterans Eligible.
Because 90% of the first years' enrollees were former service men, most people think ACUNY is for ex-GI's only. This isn't so. Veterans will again form most of the student body, but any qualified applicant will be admitted, without regard to race, creed or color. Enrollment is not restricted to New York State residents.
Sampson, Champlain and Mohawk offer the same curriculum two year courses in pre-engineering, business administration and liberal arts. When these are completed, the students will transfer to regular colleges, where room is expected to be available by that time. Many ACUNY students hope, however, that the setup of Associated Colleges will be changed before then to a full four year term.
Opportunities for Jobs.
Most of the veterans are getting through school on allowances provided by the GI Bill of Rights, plus part-time earnings in many instances. There are lots of paying jobs on campus in connection with development and expansion of their schools. Non-GI's attend at an expenses of about $1,000 a year in fees and living costs.
Sampson with room this Fall for 5,400 and Mohawk, with 2,200 will have few coeds. There are no women's dormitories. Only girls living within commuting distance and wives or other feminine kin of students and faculty members living on campus will be received.
Champlain college however, has a small wing where ex-GI Janes can find lodging. Its students capacity of 1,000 this Fall will include places for 150 female enrollees. Last term there were 68.
Plenty of Housing.
Married or single, students will find ACUNY has adequate housing facilities. Champlain is housed in the old Plattsburg barracks, Mohawk occupies 180-one-story buildings that comprised the former Rhodes General Hospital, while Sampson has fabulous aggregation of buildings and grounds that formed the Sampson Naval Training Center.
Sampson had 240 married students and their families last Spring, and will have apartments for 500 families this Fall. The range from single room units at $14 to four rooms at $32.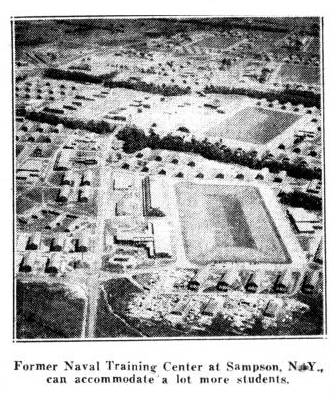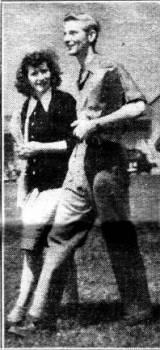 Mr. and Mrs. Victor F. Heins bring home the groceries on Sampson Campus
A typical tenant is ex-Signal Corps 2d Lieut. James D. Rogers. 25, of 10-09 116th St. College Point, Queens, a pre-engineering student, who occupies a $32 apartment with his wife, Marie, 23, and two children, Leland, 4, and Patricia Lorea, 7 weeks.
Budget is Tight.
They receive a government subsistence allowance of $90 per month, and Rogers averages another $90 by part-time work as a painter. Total income, $180. An average budget, as listed by Mrs. Rogers is food $65, rent $32, clothing $7, doctors $20, (including paying for Patricia Lorea), insurance $10, laundry and miscellaneous $20, entertainment $5. Total, $179.
"Some months we get a little ahead, and others we fall behind." she said. But thus far we haven't had to draw on my husband's war savings, except for hospital expenses when the baby was born."
Rogers attended Baldwin-Wallace College, Berea, Ohio for two years before the war. H e went back afterward, found students living in trailers and classes so overcrowded that one teacher was conducting three classes at once over a public address system. He tried 11 other colleges, the registered at Sampson.
Wants 4-Year Course.
"I certainly hope they extend this to a four-year course and make it permanent," said Rogers. "It's about time New York had a state university,"
ACUNY is a state sponsored project controlled by a board of trustees consisting of 18 college and university presidents of New York and the superintendent of New York City's schools. About 60 colleges and universities of this and other states have agreed to receive students at the end of their two years at ACUNY. About 800 will be transferred, in the "pilot groups" of about 25, to other schools this fall.