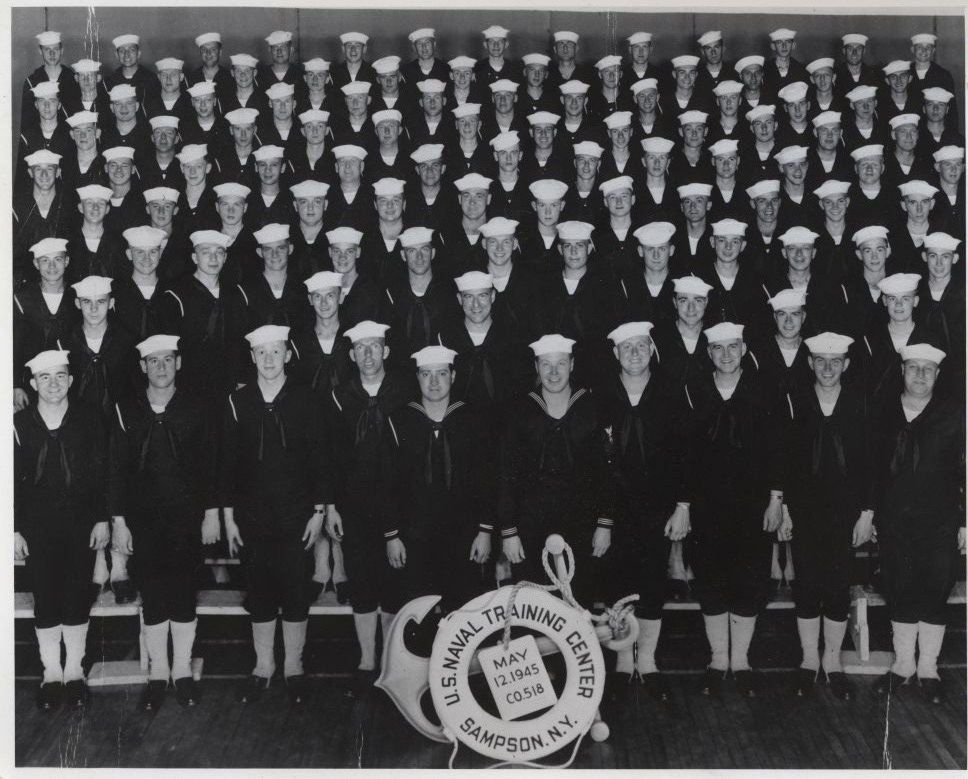 We must have copied the names laboriously from a master sheet provided by our commander, Anderson, with our fountain pens, dontcha know. Fountain pens were just one step up from the bird Quills George Washington used to sign orders during the Revolutionary War.
Of course, at 18 we were not overly concerned about what the future held for us, but for the 35-year old married Guys it was no doubt a different story. I may have told you that in 1945 the draft laws had changed to 18 minimum age and 35 maximum age. So we had some overweight married men with us.
My Brother Edwin, Pharmacists Mate 1C, was at Normandy on an LST, and then got a Sub Chaser in the Pacific after V-E Day in Europe. Eddie was the "Doctor" on this Sub Chaser, for the Navy did not have enough M.D.s, especially surgeons, to assign to small ships, and so the Pharmacists Mates had to do "Doctor Duty." Eddie's ship came into Pearl Harbor in the Fall of 1945 while I was at Naval Air Station, Honolulu, Air Transport Squadron 11 (VR-!!). Eddie invited me down to Pearl Harbor for a "special chicken dinner," prepared by a cook grateful for Eddie's services as "doctor."
Of course, we had to take liberty in Honolulu after dinner.
Bob Baudoux Sr.
Company 518, "G Unit" 9L – March 22, 1945 – May 31, 1945
9th Row Brunnet, Gaier, Bush, Berryman, Baudoux, Stazinsky, Sorrenson, Carter, Smith, Minor, Kristofco, Simo, McMurray, Bob
8th Row Peterson, Atkinson, Porter, Heich, Zatzko, Moan, Sherry, Booth, Moore, Bauer, Citro
7th Row Cushing, Morley, Lampert, Cooper, Moffatt, Raftrey, Zapciewitch, Veitch, Mitrus, Elander, Lucey, Migano, Bronsberg
6th Row Spiddle, Ramey, Fenner, Hancock, Zimon, McVicker,Del Carilo, Timmons, Horan, Rosenberger, Tousley, Burt
5th Row Heffner, Robidoux, Hamel, Celi, O-Neill, Busse, Dickinson, Swartz, Smith, AJ Chaisson, Latshaw, Aldred, Sproat
4th Row Friedhof, Haverlak, Carlson, Mandell, Quigley, Gomulka, Strong, Raptosh,Joe Maynard, Girard, Duckworth, McMutcheon
3rd Row Cook Latin, Lefkowitz, Ray L., Klinefelter, Norton, Poe O'Brien, Rimun,Kozar, Maxwell, Gieger, Montgomery
2nd Row LeBlanc, Mizziozic, Mail Man Ginsburg, Mielo, Potthier, Jolly
1st Row L-R S. Kosiewski L., Cohen, Mowery H., Hill ,Pulardy, Harrington, Nagle J., Byron
1st Platoon Physical Clerk A.P.O & Master Master at 2nd Platoon Clerk
Leader Instructor Drill Master at Arms at Arms Leader
Front L-R Joseph P. Roveda, Seaman 2nd Class / Myron E. Anderson, Specialist- A First Class Assistant Company Commander / Company Commander
I highlighted Baudoux, McVicker, and Raptosh, because we were from the same hometown, Portage-PA, and enlisted together before we turned 18, to avoid the Army or Marines. Also with us were Friedhof and Strong (in the 4th row) who were also Portage-PA Kids. Poor Joe Raptosh – he had to go up to the swimming pool in the Drill Hall almost every evening to learn how to swim. I think it took 6 weeks.
It seemed most of our Guys were from the Boston Area, and they just loved that smelly mutton which they served at the Mess Hall. Yuk!!
One of our Guys from Boston, a frail, about 120-pounder just could not take the routine, and cried himself out of our Company. I heard that they would put a person under psychiatric observation for a couple of weeks in Sampson, and if convinced He was not just trying to get out, but was truly sick, they would send him home. He was in the bunk above me, and I awoke one night because His crying was shaking my bunk.
3 of us enlisted before we turned 18. We called ourselves "draft dodgers." I ended up at Naval Air Station, Honolulu - tough duty. Joe got a sub-chaser in the Pacific, and Delmas was at a base in the north of the Philippines, "Baguio" I think it was.
We called G Unit, "Gestapo," because it was rumored that it was the toughest Unit in Sampson. I can believe it, because we ran into Guys from Farragut, Callahan, Dewey sometimes, and they did not look so "spiffy." Our Lt. J.G. worked us over pretty hard. He would say, "let's hear those heels sing."
If He caught us marching not up to snuff, it was run the grinder 2 times. I think it was a mile around. Once He gave us a choice - run the grinder or calisthenics in place. This nutsy 18-year old said, "run the grinder."
When we were finished, some of the old 35ish Guys called me over and said, "Kid, next time it is do calisthenics." I said, "gotcha, Buddies, Mother Baudoux didn't raise no dummies."
They were as tall as I was, 6'1", but more filled out. They figured they could goof off at calisthenics, but somehow you are out in the open if you are lagging behind the group running.