A fond, maybe final, farewell
By CRAIG FOX
Wednesday, September 12, 2007 9:30 AM CDT
GENEVA - At age 17, Grant Covill spent just seven weeks at Sampson Naval Base, but he credits those days in 1944 with turning him from a boy into a man.

Covill, now 80 and living in Hammondsport, was among about 300 veterans and wives who were at Club 86 for what could very well be the last time they gather to reminisce about their training here and their service during World War II.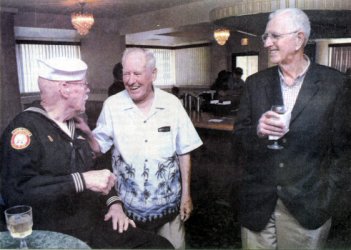 "We're getting scarce," said Bill Andre, who at 80 is president of the Sampson World War II Naval Veterans.

Many at the reunion live in the Northeast, but a few came from as far as California and Arizona.
For the last 20 years, the group has met for two days every September to revisit some pivotal moments in their lives, to tell old stories, catch up with each other, and ... oh, yeah, work on getting a museum built at the base, now part of Sampson State Park.

"With the opening of the museum, our mission is accomplished," said Andre, who joined the Navy in 1944 with two other guys from Auburn.

Earlier Tuesday, the group met for a luncheon and to lay a wreath at the sailor statue at the park entrance. Last night, at Club 86, they were treated to an interactive dinner theater show presented by a Rochester organization.

They'll be back there tonight, perhaps for their last time together at the club, where many of them spent some of their weekend liberties, enjoying big bands and other entertainers.
Some of the veterans don't want the reunions to end, so they're talking about having a different type of event, perhaps a picnic at Sampson. But, there's still the question of how many could or would attend.

"Fifteen hundred of us die every day," said Fred Gerow, an Oneida County resident who came here at age 17, too.
Covill, who was born in Wellsville, Allegany County, said Sampson saw 429,411 young men shipped off to war after being trained at the base.

He served as a Petty Officer Third Class, in charge of small instruments on the USS Apollo, an AS25 auxiliary ship that fought in the Asiatic Pacific.

"I think it's sad that this is it, or at least as we know it," said Covill, who wore a sailor's uniform to last night's dinner and had his original hat from his Navy days.

"Sampson, it was a big part of my life. We went there as boys and all of us came out as men."
Gerow, who was stationed at the base in January and February of 1944, recalled Sampson as "the coldest place in the world because of the winds that came off the lake."

After his two months at Sampson, Gerow served in the Asiatic Pacific as an electrician on the USS Bennington, an aircraft carrier called "the big one."

His brother, Donald, also served but never came home. He died at age 19, while fighting in Salerno during the invasion of Italy.

"You know, my father had to sign me up" because Gerow wasn't yet 18 but wanted to fight to end the German and Japanese threat, he said.

As Frank Sinatra's voice crooned in the background, Andre recalled that some boys as young as 15 managed to get into the service, so they could go off to war.

"Tonight, we're a bunch of kids on weekend liberty," said Andre, who served as a quartermaster.

Covill said he knew just about everyone at the dinner, and they keep in touch throughout the year by phone or letters.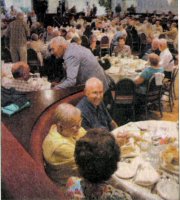 Club 86 on Avenue E was where many of the veterans spent their time while on their brief liberties during training.
Retired naval officer Larry Howard, who lives in Walnut, Calif., still remembers the day he arrived in Geneva with about 50 other new sailors from his home state of Ohio, and Indiana and Kentucky. They would normally have gone to Great Lakes Naval training base, but it was quarantined for some reason, he said.

Howard, 81, also recalled the day in September 1944 when he left Sampson - it was 5 below zero with 5 feet of snow piled against the barracks. When he got to Key West, the temperature was 95; and when he arrived in Guantanamo Bay, Cuba, it was 105, he said.

With 17 years in the Navy, much of it in the Reserves, Howard also ran his own company before retiring.

"Sampson had a real effect on my life and what I did with my life," he said.

cfox@fltimes.com